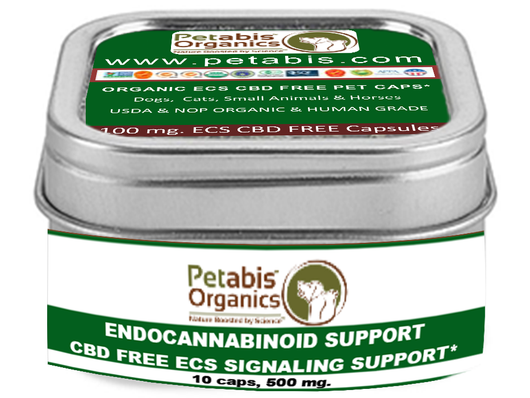 ENDOCANNABINOID SUPPORT 10 PACK CAPSULES* CBD FREE ECS SIGNALING SUPPORT*
Regular price $14.99 Sale
Petabis Organics introduces ENDOCANNABINOID SUPPORT* 10 PACK CAPSULES*
Our ENDOCANNABINOID SUPPORT* 10 PACK CAPSULES are CBD FREE and CANNABIS FREE and offer signaling support that may help mimic and signal the chemistry of the Endocannabinoid System without CBD but may also help potentiate the effects of use with CBD products.
Our ENDOCANNABINOID SUPPORT* 10 PACK CAPSULES* represents a proprietary, revolutionary formula of structural and signaling adaptogen botanical and herbal phytocannabinoids that may nutritionally and phytochemically support the Endocannabinoid System. 
Our ENDOCANNABINOID SUPPORT* 10 PACK CAPSULES* formula may help nutritionally signal your pet's innate Endocannabinoid System, may help stimulate the function of CB1 and CB2 receptors found throughout the animal body and may help encourage the production of these vital receptors as well as better enable your pet to help produce and use naturally occurring cannabinoids, called endogenous cannabinoids, or those produced within the body. 
What Is The Endocannabinoid System? 
The Endocannabinoid System (also referred to as ECS) is a system belonging to all mammals, including dogs, cats, small animals and horses, and is part of the central and peripheral nervous systems, immune and neurological system plus all organs, and contains receptors (referred to as CB1 and CB2 receptors) that are tasked with receiving and responding to nutritional cannabinoids, naturally found in your pet's body. 
The Endocannabinoid System is involved in a number of body responses related to hunger, pain, illness, mood, stress, immune health and memory.
Endocannabinoids nourish and stimulate the Encocannibinoid receptors that are found in the brain, organs, connective tissues, glands, and immune cells. The Endocannabinoid system is also tasked with maintaining immune and cellular balance internally, known as homeostasis, despite external forces that might otherwise interrupt balance in the animal's systems.
The right combination of herbs may help not only optimize the overall health and wellness of the ECS system, but may also help regulate the performance of cannabiniods produced, how they are utilized in the body and may help potentiate their effectiveness.  
Did you know that if your pet is not using a product that stimulates the Endocannabinoid System, the ECS system is likely in a constant state of dysfunction and deficiency, and it has a direct impact on many other body systems, including Central Nervous, Endocrine, Immune, Cardiovascular, Circulatory, Respiratory, Digestive and Elimination systems.  
Often when pets utilize an ECS stimulating formula, it is a common response that they demonstrate more energy and more "feel good" behavior because the ECS system is stimulated and is now able to help your pet express naturally occurring phytocannabinoids
What Are Cannabinoid Receptors?
There are two primary cannabinoid receptors: CB1 receptors which are predominantly found in the nervous system, connective tissues, reproductive organs, glands, and organs and typically have the most pronounced effect on the brain, liver, kidney, lungs, digestion, GABA neurotransmission and aid in the lipogenesis of fatty acids.
CB2 receptors are predominantly found in the immune system and its associated structures with the most pronounced affect on promoting health in the immune system (balanced immunity) as well as promoting health of cells, blood, glands (most predominantly the thymus gland) and the spleen.   
Why Is Our ENDOCANNABINOID SUPPORT* 10 PACK CAPSULES* GOOD for Dogs, Cats, Small Animals and Horses?
ENDOCANNABINOID SUPPORT* 10 PACK CAPSULES* may help provide symptomatic relief for all mammals with both chronic and intermittent symptomatic conditions.
It has been attributed with helping to address conditional needs and symptomatic response associated with arthritis, compromised immune systems, stress response, aggression and digestive issues in pets.
There are also numerous studies under way into products and potential benefits in using products that help support the Endocannabinoid System, including possible effects on neurological disorders, organ diseases and immune system regulation.
ENDOCANNABINOID SUPPORT* 10 PACK CAPSULES* may also be useful in helping address pain response related to torn ligaments, sprains and strains, broken bones, joint and, muscle issues, skin and coat issues and may help speed recovery from operations.  
ENDOCANNABINOID SUPPORT* 10 PACK CAPSULES* formulation offers a full spectrum, herbal adaptogen blend which may help encourage the optimal functioning of your Endocannabinoid system, as well as may help ping all body systems into symmetry.
Our ENDOCANNABINOID SUPPORT* formulation may offer more comprehensive support than CBD alone, or other Hemp based products.
Our proprietary ENDOCANNABINOID SUPPORT* 10 PACK CAPSULES* Cannabis Free adaptogen blend may help activate CB1 and CB2 receptors, with a comprehensive approach to helping nourish your pet's innate ECS not only nutritionally and phytochemically but may also enhance receptor binding sites, may help encourage the production of endocannabinoids as well as may potentiate the benefits of nutritional cannabinoids, possibly increasing vitality and longevity benefits in the body.
Mac has been widely researched for its nutritional and potential health benefits for dogs, cats and horses.
Journal of Veterinarian Medicine & PetFoodIndustry recognizes maca as functional food for dogs and cats
Also, studies have determined that Maca signals the Endocannabinoid System based on its own natural plant chemistry, and when combined with CBD oil, may potentiate the effects to be derived from Maca and CBD to help deliver greater layered health benefits.
An additional benefit in adding Maca to your pet's diet is its studied effects to help signal your dog's Endocannabinoid system, providing your dog with potential layered therapeutic effects in a single treat!  
INGREDIENTS:
Our proprietary Master Blend includes organic adaptogen super foods, fruits, herbs and marine extracts.  
10 capsules. Turkey flavoring (real turkey not digest or synthetic turkey flavoring)
CONTRAINDICATIONS:
Do not administer if pet is pregnant, nursing, scheduled for surgery within 2 weeks or following an organ or bone marrow transplant or skin graft. Cautioned for use with blood thinners, blood pressure, anti-platelet, diabetic & non-steroidal drugs, gall stones, a bile duct obstruction or estrogen related cancer.
SUGGESTED DOSAGE: 
Dogs & Cats up to 12 pounds: 1 capsule, 1 time daily. 
Dogs & Cats 13-24 pounds: 1 capsules, 2 times daily. 
Dogs & Cats 25-50 pounds: 2 capsules, 2 times daily. 
Dog 51+ pounds: 3 capsules, 2 times daily.   
Disclaimer*
*This product is not for use by or sale to persons under the age of 18. Use of this site is intended for customers of 18 years of age and over. Minors under the age of 18 are prohibited from using this site without parental consent.
*The statements contained herein have not been evaluated by the Food and Drug Administration.
*This information is not intended to be used to diagnose, prescribe or replace proper medical care. The product described herein is not intended to treat, cure, diagnose, mitigate or prevent any disease or condition.
*These statements refer to holistic uses only and are not supported by medical research. The information contained in this website is intended for education and information purposes only.
* As indicated by holistic veterinarians.
In accordance with our 'Do No Harm' policy, no animal testing is carried out whatsoever.
QUESTIONS & ANSWERS
Have a Question?
Be the first to ask a question about this.
Ask a Question